Bybit is an advanced cryptocurrency trading platform that gives users various ways to trade cryptocurrency. Traders can margin trade, including perpetual futures contracts, and other cryptocurrency derivatives services. The exchange platform only supports crypto trading pairs, with no fiat currencies available with the exception of stablecoins.
Professional traders and amateur cryptocurrency traders alike may find the lack of support for fiat currencies to necessitate a search for alternatives to Bybit. We'll explore some of the most comparable cryptocurrency exchange alternatives to Bybit. This includes crypto exchanges with fiat trading pairs, those with a futures trading platform, and those with similar advanced trading features.

The Similarities of Crypto Exchanges
Regardless of the trading platforms you use to facilitate trading one cryptocurrency for another, they all work in similar ways. However, every exchange varies based on the number of cryptocurrency pairs they offer, the types of trading they enable (i.e. margin, futures, spot), the fees they charge for their services, and whether or not they support fiat currencies.
Trading Platform Alternatives to Bybit
There are many secure trading platform alternatives for crypto traders to use if they find that the multiple trading options on Bybit aren't enough.
Professional traders looking for superior online trading services to Bybit are unlikely to find another crypto exchange platform that provides a more advanced trading terminal.
Instead, they will find that Bybit alternatives offer more BTC trading pairs when compared to the lack of BTC trading pairs on Bybit. Traders may need a cryptocurrency exchange that also supports fiat deposits and withdrawals.
Additionally, citizens of the US will need to find a crypto exchange that will provide them services, as Americans are not able to use Bybit.
It is recommended to sign up on more than one cryptocurrency exchange ahead of time in anticipation of not getting exactly what you want from your exchange of choice. One exchange may give you the best fees, but if it doesn't give you the opportunity to buy the latest hot cryptocurrency you have your eye on, you will have to look elsewhere.
Within this guide, we will talk about Bybit alternatives for five aspects.
Trading Bitcoin
Trading Derivatives (margin trading, futures trading)
Crypto Assets
US Residents
Fiat Currencies
Although Bybit is a great derivatives trading platform and supports a wide range of cryptocurrencies, it still lacks in three of the above listed aspects. Let's break down the best similar exchanges that are alternatives to Bybit.
Best Bybit Alternatives to Trade Bitcoin
While Bybit is a great trading platform, it lacks a significant quantity of direct pairs with Bitcoin. Bybit offers only 12 pairs with BTC, which is low compared to many other trading platforms. Here are some Bybit alternatives for BTC pairs.
The world's largest exchange platform by trading volume, Binance supports over 600 crypto assets, and you can trade Bitcoin for almost all of them. Having begun in 2017, Binance has created a set of trustworthy trading services. It has become a favorite exchange for users to start trading cryptocurrency. As Bitcoin is the original cryptocurrency, Binance has provided over 300 pairs with BTC. To top it off, Binance offers some of the lowest trading fees in the industry.
Binance is also a good place for crypto traders seeking cryptocurrency derivatives trading services. Users can trade BTC pairs on margin with many other cryptocurrencies. Due to the diversity of features, the number of supported pairs, and the wide range of services, Binance is considered to be a highly advanced trading platform, and sets the standard for many other cryptocurrency exchanges.

Another top cryptocurrency exchange platform by trading volume, KuCoin has over 600 coins and tokens available. Started in 2017, KuCoin has a long track record of being a user-friendly trading platform with consistent trading volume for BTC pairs. As with Binance, KuCoin has pairs with BTC for almost all of their supported crypto assets. Check out all their pairs here.

Best Bybit Alternatives with a Derivatives Trading Platform
Bybit has a powerful crypto trading platform for margin trading and perpetual futures contracts with up to 100x leverage. It is not the only crypto exchange that lets you margin trade crypto assets or traditional futures contracts. Margin trading is available on almost all trading platforms mentioned in this article.
Phemex crypto exchange allows you to participate in margin trading with up to 100x leverage across a variety of perpetual futures contracts. With 2 million users and high daily futures trading volume, Phemex provides advanced crypto trading tools on their derivatives trading platform. In addition, Phemex has lower trading fees than both Bybit and Binance.

FTX.com is one of the biggest exchanges in the crypto market. They offer all forms of leverage trading including traditional futures, options, and margin trading. Like Bybit, FTX.com does not offer all of its services to US residents. As such, they will need to use the FTX.US if they wish to use FTX as a trading platform.

Caution for Leverage Trading
Leverage trading is a highly risky activity as it involves trading with debt. Unlike spot markets wherein the assets traders hold rise and fall, leverage trading puts the assets themselves at risk. Traders put some amount of money up as collateral, and borrow against it to multiply their gains. Ultimately this means that if a trade does not turn out the way you want, you are at risk of losing your underlying asset. Be careful when using leveraged trading (5x – 100x leverage).
Best Bybit Alternatives for Trading Pairs
Bybit may meet most of your trading needs, but are all the crypto pairs you are interested in available? If not, you may need to look for another crypto exchange that supports the specific coin or token. When expanding your crypto portfolio, it helps to register for additional crypto exchanges that frequently add new crypto markets to their trading platform.
Now the second largest crypto exchange by trading volume, Gate.io has high trade volume and one of the largest crypto market selections of all cryptocurrency exchange trading platforms. With over 1300 cryptocurrencies available to trade, Gate.io is a great alternative to Bybit.

The largest cryptocurrency exchange by trading volume, Binance has a wide selection of coins and tokens, with over 600 available to trade. Despite Binance's global trading services, US residents must use binance.us, which has a lower trading volume and less asset selection, but the same trading fees.
Best Bybit Alternatives for US Residents
It is possible to sign up for Bybit as a US resident using a VPN, as there is no identity verification. However, traders should follow their local laws to avoid issues in the future. Bybit does not technically allow US residents to use it, so here are alternatives to Bybit for US residents.
You've probably already heard of Coinbase, as it is one of the oldest trading platforms on the market. Based in San Francisco, Coinbase is a publicly traded company that caters services towards US users. It has very high trading volume and they even allow you to set up direct deposit for your paycheques.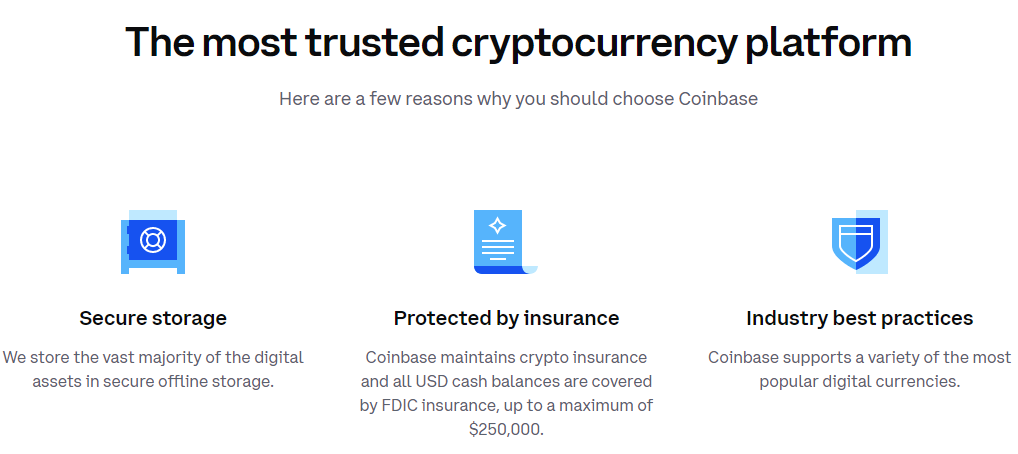 While lacking in asset selection, derivatives, and the benefits of the FTX token (FTT), FTX.us is still a solid option for US residents. Users can open a trading account, but are unable to use any derivative trading instruments such as margin, options, or perpetual swaps. Nonetheless, FTX still offers traders a convenient trading system that will allow them to trade most major coins in spot markets. There is a wide selection of assets paired to the USD, along with low trading fees.
Best Bybit Alternatives for Fiat Currencies
Perhaps the biggest drawback of Bybit is that there is no support for fiat currencies, either as a pair for trading or as a deposit or withdrawal method. While you can buy crypto directly with fiat by using a credit card on Bybit, this is not recommended as it incurs high fees.
Crypto.com has become known as one of the industry's most convenient exchange services. Their platform spans a mobile app, online exchange, NFT marketplace, and decentralized blockchain. The Crypto.com exchange platform doesn't support fiat currencies for all countries. However, their mobile app allows users to deposit a variety of fiat currencies and then swap them on the mobile trading platform. Supported fiat wallets are AUD, USD, CAD, EUR, GBP, and BRL.
One thing to note about any trading firms that accept fiat currencies is that they should have top notch security. Crypto.com is a safe trading platform as it has implemented and maintained industry leading security protocols.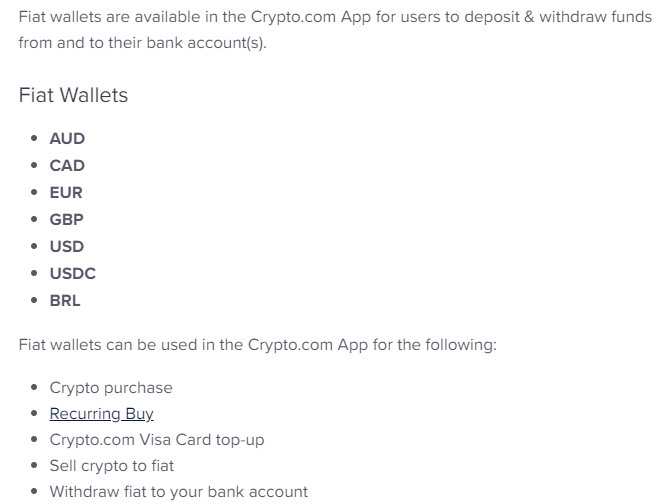 Coinbase is an institutional cryptocurrency exchange. If you are representing a big business or enterprise, then they have a trading account for your company. Coinbase is a top option for funding an account with fiat, as they have fiat wallet support for GBP, EUR, USD, CAD, and SGD. A very appealing aspect of Coinbase is the ability for US users to set up direct deposit and have their paycheques deposited directly onto the trading platform.
Bybit Alternatives For Crypto Traders
Choosing an alternative depends on the services that you are lacking from Bybit. For Americans, it makes sense to choose Coinbase or Binance.us. For people looking for cheaper fees with respect to derivatives trading platforms, something like Phemex may be the one to choose. Regardless of the outcome, it makes the most sense to sign up on more than one cryptocurrency exchange.
As hard as these exchanges may try, none of them are capable of offering the highest tier and the widest range of services across all dimensions. It's best to use Bybit along with a handful of other cryptocurrency exchanges for trading cryptocurrencies.